5 Best Web Browsers for Linux + Their Ups & Downs (2023)
GNU/Linux is a wonderful OS that has completely my perspective on how an Operating System should work. In terms of web browsers, there are dozens of options available for Linux. Some provide better performance than others, some better user experience, while some focus more on privacy and security.
Taking the points mentioned above in consideration, I have compiled a list of the best web browsers for Linux which provide solid performance, respects users privacy and follow the main 'ethics' of Linux.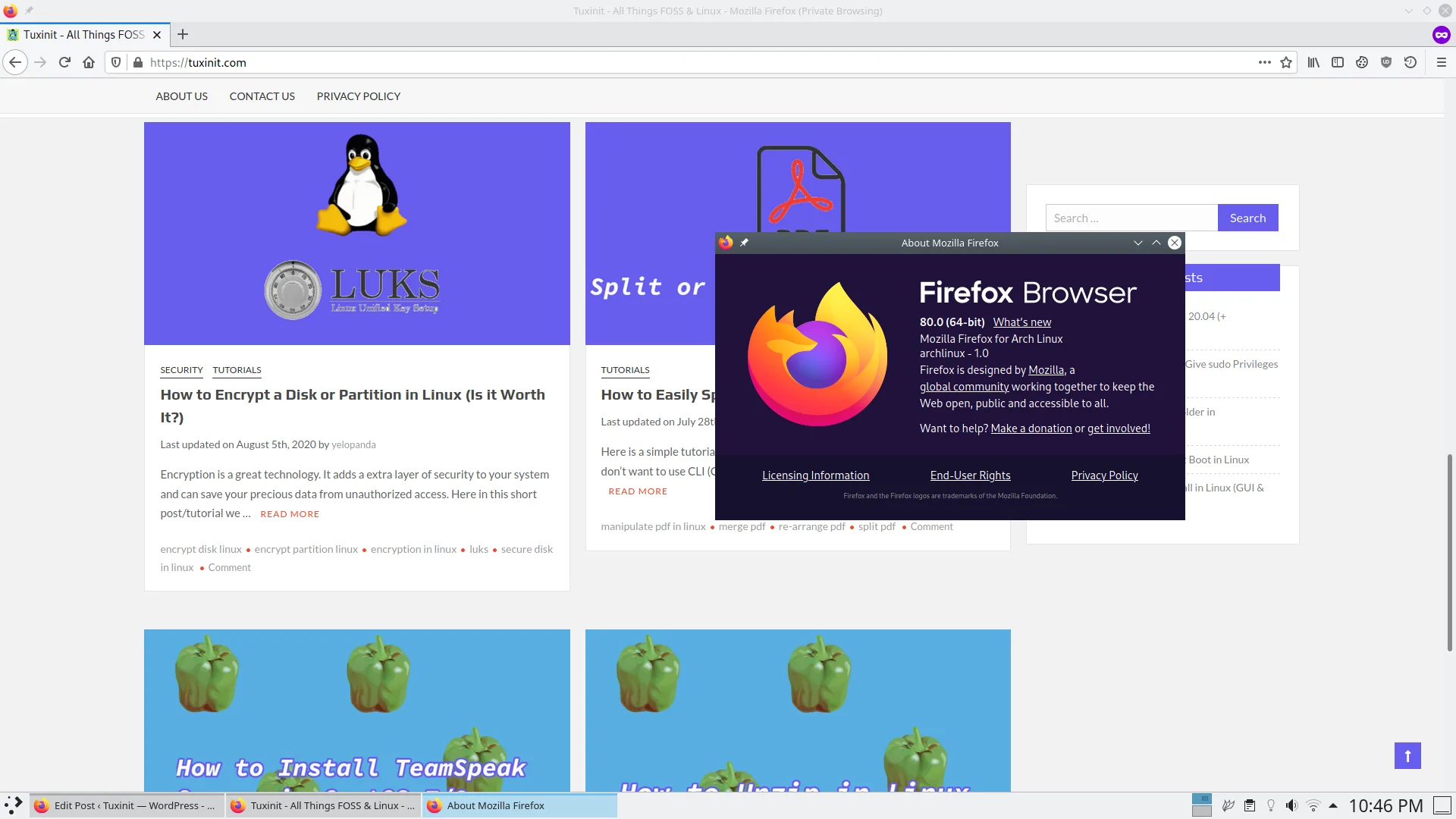 Firefox is the privacy focused web browser from Mozilla foundation. It offers great speeds, good privacy settings, has in-built content blocking (trackers/cross-site cookies, cryptominers), and it does so while consuming reasonable amounts of memory.
Unlike most of the popular web browsers which run on blink (default browser engine for chromium), Firefox uses gecko which is a web browser engine developed by Mozilla. It is a good thing as it gives us, as consumers an alternative option when choosing web browsers.
Firefox gets updated frequently but if you don't care about the new features and updates, you can try the esr (extended support release) version of Firefox. This version is based on older releases of Firefox and offers better stability while providing necessary security updates and patches.
Ups
Respects users privacy
Not a memory hog
In-built tracking Protection
Downs
A lot of unnecessary 'features' are turned on by default
2. Ungoogled Chromium
Ungoogled Chromium is same as chromium, minus the Google dependencies and web services. Stuff like account linking, background requests (to google), tracking, and other code related/linking to google have been removed. This gives a wonderful chromium experience without the dependency on google services.
The project is currently hosted and maintained by Eloston on Github. You can download source code for ungoogled-chromium from there and build it yourself. Or you can find binaries for your Linux install on this page.
Instead of this version, you can use the plain and simple chromium as well. It works nicely on Linux and you will have no trouble finding it in any of your Linux Distribution's repo's.
Ups
No "Google" dependency
Free of telemetry
Very clean layout (when compared to other Chromium-based browsers)
Downs
Installing extensions can be difficult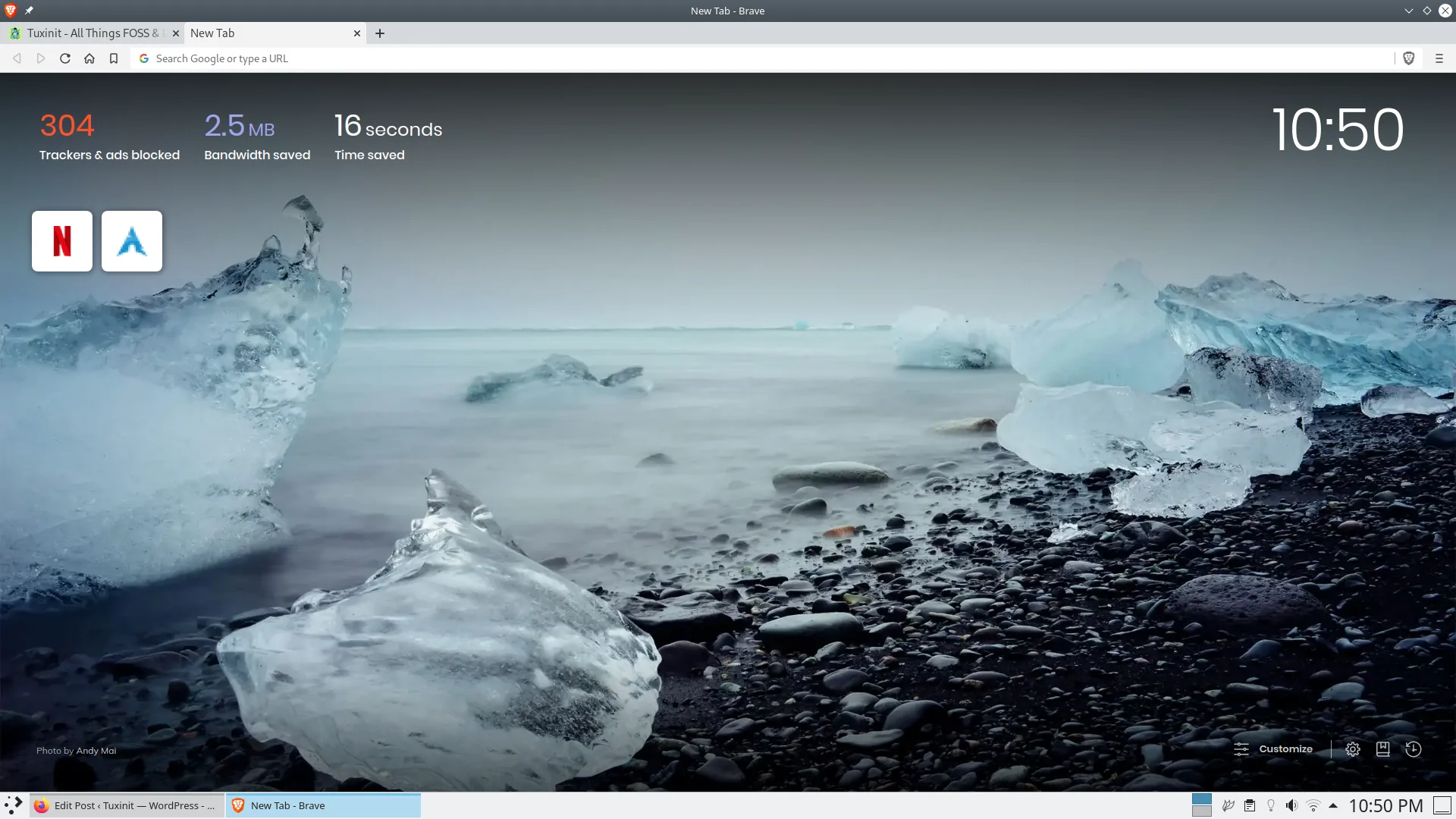 Brave is an free and open source web browser featuring the blink engine (chromium). It offers an in-built blocker which can stop trackers, ads, cross site cookies and more. A toggle to redirect HTTP sites to HTTPS is also set by default in Brave.
The sites load fast and browsing feels smooth; It is not 'themed' to a great extent and feels very responsive.
Brave browser also rewards you if you decide to enable non-intrusive ads on their web browser. These ads are served by brave and when enabled, they can help you earn you some BAT (Basic Attention Token), a blockchain based currency. You can also opt out of their 'Rewards' programs if you want to.
Ups
Respects users privacy
In-built tracking Protection
Downs
Ads are enabled by default
Vivaldi is another well known web browser based on chromium. Unlike some other browsers, Vivaldi has much more customization option, you can change the look and feel of your web browser with a few toggles.
Vivaldi also has a built-in blocker, no need for a separate extension to manage trackers and advertisements.
Contrary to some people's beliefs, Vivaldi is not completely open source. While the chromium part is free and open source software, but some parts of the code of Vivaldi browser, such as some features, assets, etc are not open source.
Ups
Very Customizable
Has a built-in blocker
Downs
Not completely open source
Feels a bit slow when compared with other Chromium-based browsers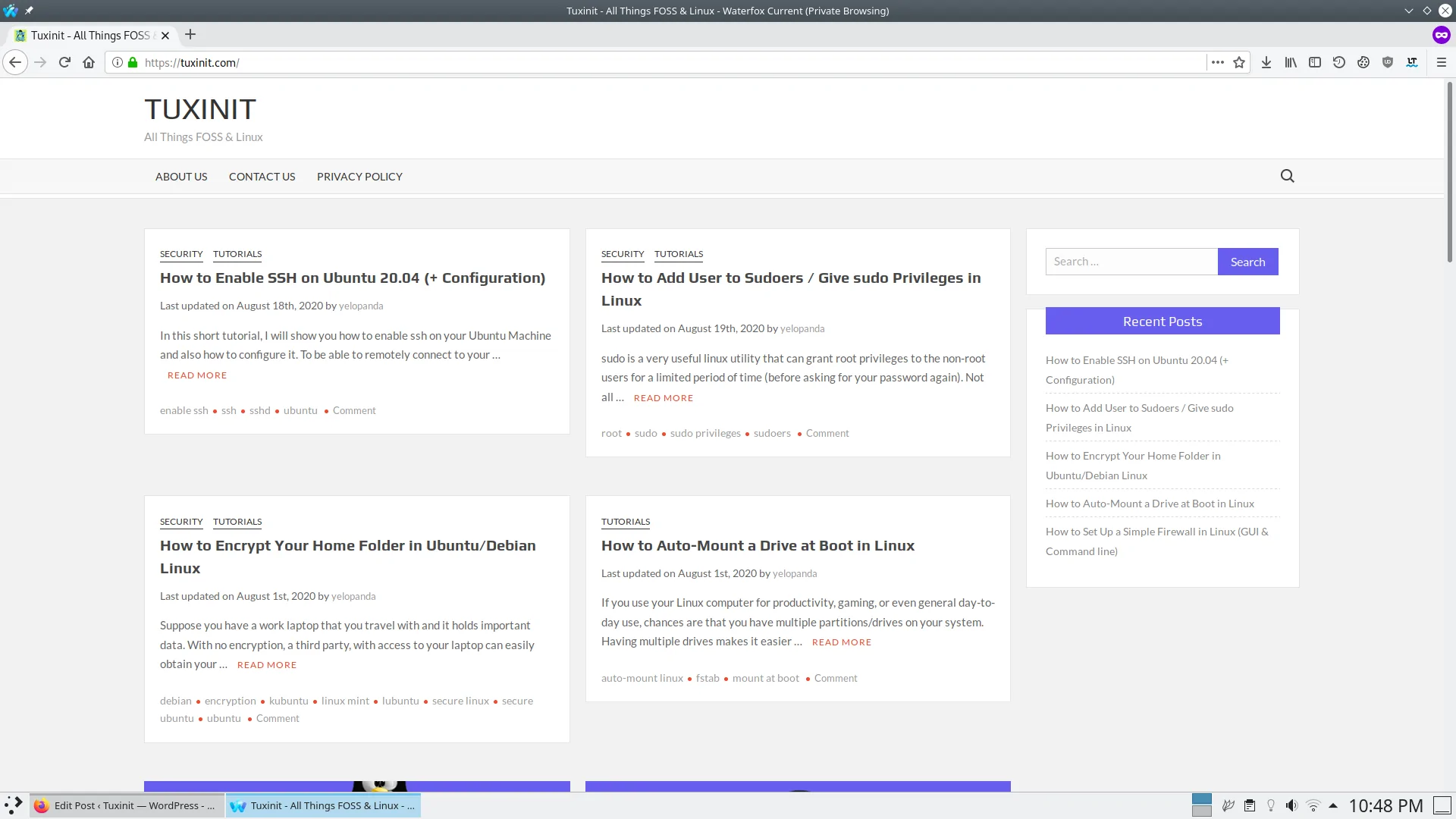 Waterfox is web browser which started as a 64bit version of Firefox when Mozilla only offered 32bit support for their browser. Later it came to known as a fork of Firefox with no telemetry and support for legacy extensions & plugins.
There are two versions of Waterfox available, Classic & Current. The current version provides a stable, fresh and robust user experience and is based on newer versions of Firefox. The classic version is themed like old Firefox 52 and still has support for XUL extensions but runs on older code.
I first came to know about Waterfox when Mozilla changed how extensions work on their browser, thus rendering countess addons useless. Waterfox was a project that decided to provide support for these 'legacy' extensions (and still does in 2020).
Ups
Respects users privacy
Not a memory hog
In-built tracking Protection
Downs
Security patches arrive slow
Some websites do not work properly on the Classic version
Conclusion
Well, this concludes my post on top web browsers for Gnu/Linux. I will be keeping this post update as new browsers gets introduced to the Linux ecosystem. If you also have a suggestion or recommendation for this list do leave a comment down below.
I have used all the web browsers mentioned here and placed them in this list accordingly. However, it does not mean that one is better than other, it all comes down to personal preferences. I would suggest that you give each web browser a try and see which one you like the most.
Looking for something to read? Check out this tutorial on How to Set up a Basic Firewall in Linux.