5 Best Torrent Clients for Linux
Torrents are one of the fastest and easiest ways to distribute or download files. There exist many torrent clients for Linux bases operation systems but not all quite the same.
Here in this post I will share the best torrent clients that you can get on Linux right now.
All torrent clients in this list are compatible with most of the Linux distributions including Ubuntu, Debian, Arch Linux and their derivatives (Pop!_OS, Manjaro, Linux Mint, etc.). They also are free to use & the majority of them are opnesource as well.
So without any further ado, here are my picks on best torrent clients for Linux.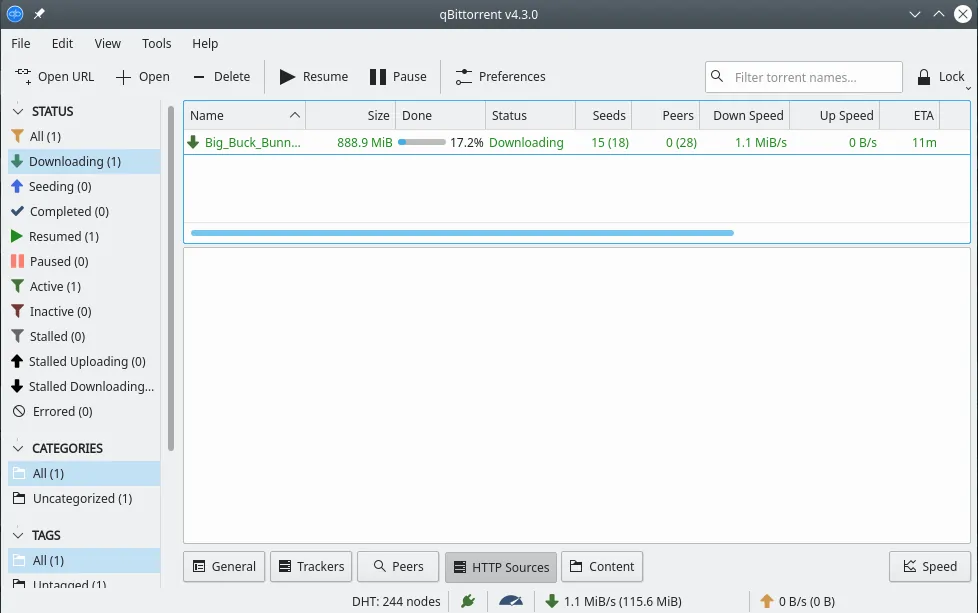 qBittorrent, the name and interface of this torrent client may seem familiar if you are coming from Windows. qBittorrent is a torrent client with uTorrent like features and looks; Minus the advertisements, and the fact that it is opensource.
This wonderful torrent client is available on all major desktop operating systems and is free to use. On Linux, it comes in a lightweight package and only requires a couple of extra dependencies.
Installation
Ubuntu and Debian based distributions:
sudo apt install qbittorrent
Arch Linux & its derivatives:
sudo pacman -S qbittorrent
Ups:
Is lightweight.
Goes easy on the resources.
Downs:
Interface is a bit cluttered.
Little customization options.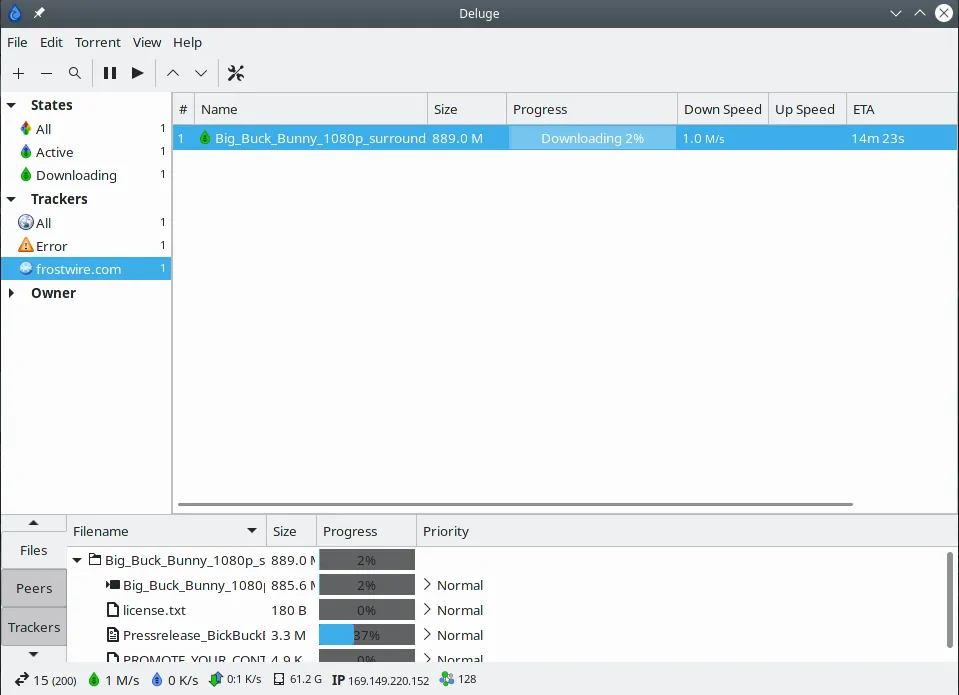 Deluge is a torrent client written in python. If you want something simple and easy to set up then you can give deluge a try. Only a handful python and gtk dependencies are required to run it.
A gtk based frontend GUI is available for deluge but you can also use it from the cli (command-line interface).
While deluge comes with all things that you want from a simple torrent client, you can still add some extra functionality such as a webUI, blocklist, scheduler, and more.
Installation
Ubuntu and Debian based distributions:
sudo apt install deluge deluge-gtk
Arch Linux & its derivatives:
sudo pacman -S deluge deluge-gtk
Ups:
Makes managing torrents easier.
Simple to use.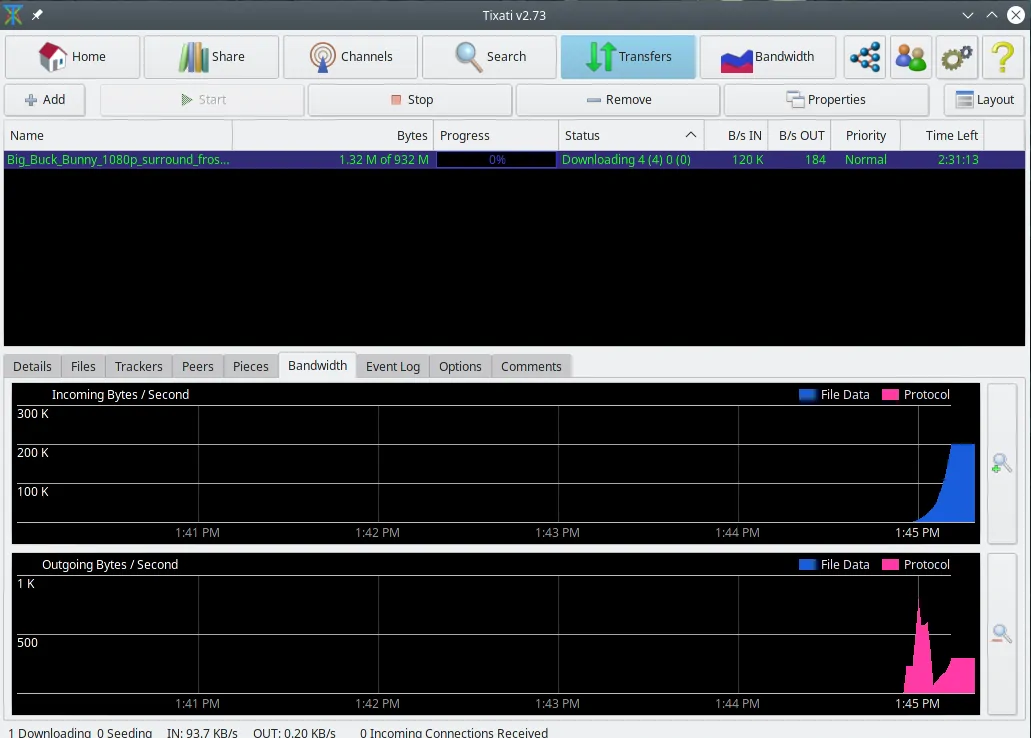 Tixati is an excellent cross-platform torrent client that comes with a ton of features and is totally free. Free as in free beer, and also free from any kind of advertisements or tracking. But one thing that holds it back (at least according to some people) is the fact that it is not open source.
Not being opensource may seem like a big deal to some, but others who just want the functionality, tixati is a great software. It has a great GUI, comes with a bandwidth limiter, RSS Reader, and has a stop button that actually stops the torrent completely, meaning no leaching (downloading) or seeding (uploading).
Tixati also has something called "Channels". They function like groups and people can join channels to chat and share files with others.
Ups:
Great GUI.
Has web panel.
"Stop" means stop.
Very Customizable.
Downs:
Not allowed on some private trackers.
Not opensource.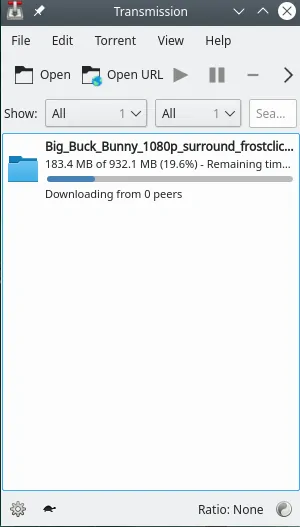 Transmission is an easy to use and lightweight torrent client available for Windows, macOS, and *nix based systems.
While Transmission does not come with many bells and whistles, it still has some basic settings such as a bandwidth limiter, seeding ratio control & some networking settings.
There are three different transmission packages available. One is the cli version, and the other two are graphical ones, you can either get the gtk one or go with the qt.
Installation
Ubuntu and Debian based distributions:
Note: For gtk, replace transmission-qt with transmission-gtk. For cli use transmission):
sudo apt install transmission-qt
Arch Linux & its derivatives:
sudo pacman -S transmission-qt
Ups:
Minimalistic, and is simple to use.
Rtorrent is a CLI based torrent client and ruTorrent is web fronted for it. It is the go-to set up of many hardcore torrent enthusiasts out there and for a reason.
It can handle thousands of torrents at the same time with great efficiency. Also, however, it is a bit difficult to set up when compared to other torrent clients, especially if you are just getting started on the Linux terminal.
You will need to configure Apache web server and PHP in order to serve the web, php-based interface of rutorrent. If you are a casual torrent'er and want to run this setup on your personal computer and not on a server, then I would recommend that you look for other options.
Installation (rtorrent)
Ubuntu and Debian based distributions:
sudo apt install rtorrent
Arch Linux & its derivatives:
sudo pacman -S rtorrent
CentOS:
sudo yum install rtorrent
Rutorrent can be found in this GitHub repository:
https://github.com/Novik/ruTorrent
Ups:
Great if you have thousands of torrents to manage.
Downs:
It is a tad bit difficult to get it up and running.
Peerflix is a command-line utility for streaming videos files from torrents. It can be used with your existing video players such as VLC or MPV. Subtitles are also supported by peerflix. You can add your own subtitle files and add them to the torrent you are streaming.
There you go this concludes on post on best torrent clients for Linux. Have some suggestions for the post? Feel free to leave a comment down below.
Also check out other similar posts on my website, such as the one on Best Web Browsers for Linux, and this one on How to Auto-mount a Drive at Boot in Linux.